European/International Services
John K Philips
European/International Services
---
As well as covering the whole of the UK, our transport network extends throughout Europe as well as other countries outside the continent. Our membership of Palletforce and partnership with companies such as Asia Freight means we can take responsibility for your consignment and deliver it to any location around the globe. European deliveries can be arranged for the following day and usually within 72 hours.
INTERNATIONAL FREIGHT
For international freight, you'll need to know that your chosen freight company is up to scratch, with a proven track record in delivering cargo internationally. John K. Philips is the UK's foremost international and European freight delivery provider, with decades of industry-leading freight delivery service under our belts – give us a call today to speak to one of our expert head office staff about what we can do for you!
HIGH-QUALITY LOGISTICS AND INTERNATIONAL DELIVERIES
Thanks to a wide-ranging transport network and logistical planning and coordinating staff who are second to none, John K. Philips can provide an unparalleled service in international deliveries – whether your consignment needs to go to Calais or Shanghai!
OUR INTERNATIONAL PARTNERSHIPS
As a member of Palletforce, John K. Philips enjoys access to the full Palletforce network of transportation partners and can offer unbeatable service on palletised freight both domestically and internationally. On top of that, with our own transport network extending into Europe, and a key partnership with companies like Asia Freight, John K. Philips can provide unbeatable delivery times, industry-leading service and very competitive pricing – get in touch with us today to see what we can do for you!
Contact John K. Philips for European Freight and International Freight!
If you would like to know more about the European Freight Services available from John K Philips, or you have any questions about our international freight services, you can get in touch with us on our telephone number, 01744 751000, or send us a direct message using the contact form on this site!
Our expert head office staff will be happy to provide the answers to any questions you may have and can provide any advice you need to help you find the ideal European Freight or International Freight Services which you may need. In addition to queries and enquiries, you can also get in touch with us using the same contact information to request a quote on our services, or make a booking for a consignment. When you need international freight services, why settle for less than the best?
Our dedication to service, our planning and logistical expertise and our track record of excellence speak for themselves – get in touch with John K. Philips today on 01744 751000, or send us a direct message on our online contact form – we'll be happy to help you!
---
Enquire Now
Get in touch today!
Request A Call
Enquiry About Our Services
SERVICES
INDUSTRY LEADING SERVICE
---
In every aspect of our service, John K. Philips strives to provide an industry-leading performance, so whether you're sending half a pallet of cargo or a dozen full pallets, we can help. Our expert drivers and handlers are fully trained to provide the fastest, smoothest and most reliable service in the business, and our logistics and planning experts have years of experience in finding the fastest, most direct routes for your freight, saving you time and money!
---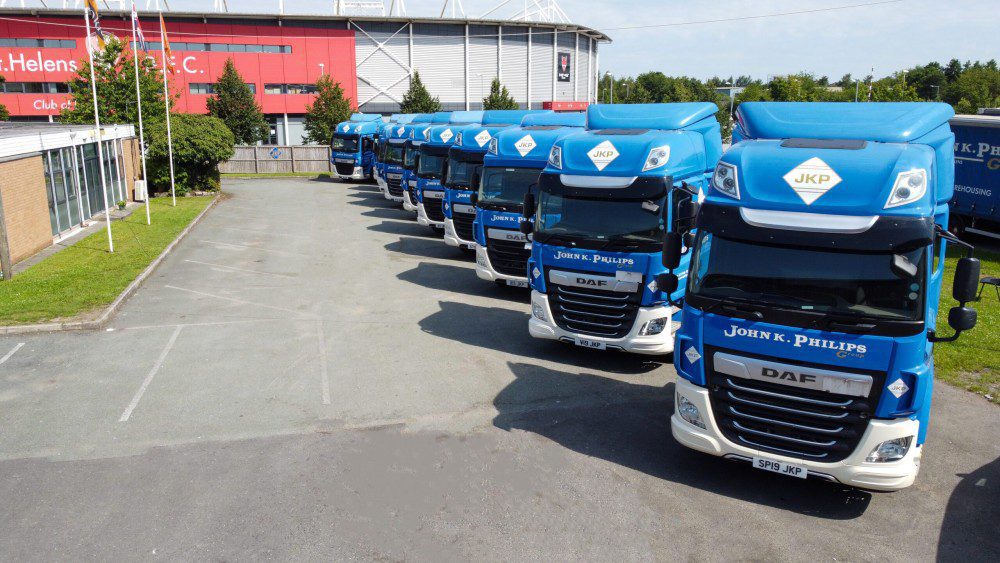 Find out more
Find Out More About Us?
If you're interested and would like to find out more about us why not give us a call or send your enquiry using the buttons below.
HAZARDOUS MATERIALS &
THE HAZCHEM NETWORK
John K. Philips Group can deliver consignments of all types and sizes. We transport both hazardous and non-hazardous materials, so every driver is ADR and CPC trained and each vehicle is fully insured. You can guarantee that, whatever you ask us to transport, we'll get it there safely and in one piece – first time, on time, every time.