John K Philips
Track and Trace Facility
---
We take great pride in our planning and co-ordination at John K. Philips, and the high standards of our service wouldn't be possible without our advanced technology. Our track and trace system ensures that every single consignment is accounted for at every stage, from collection to delivery.
Working from our head office in St Helens – strategically located just off the M6, M62, and M56 – this central hub allows us to plan routes as efficiently as possible. Our industry-leading logistics service ensures that we take the client's individual needs into account when processing each order.
The expert staff at John K. Philips control operations across the UK and Europe with a keen eye, adapting to ever-changing conditions in real time with the help of track and trace technology.
Why use John K. Philips tracking services?
We understand that it's daunting to entrust your goods to an external storage and distribution facility, but our cutting-edge computer network means there's no need to worry. You can track individual shipments at any point in the process, from pick-up to the conclusion of their delivery.
Each consignment receives its own unique barcode, then our forward-thinking electronic signature capturing system updates at every stage of the journey when this is scanned. Constantly refreshing for the latest information, this allows us – and you – to trace a consignment down to the minute.
Our track and trace facility provides accurate details on the current status of your goods, including:
Current location of the consignment
Warehouse operative who handled the shipment
Vehicles and drivers involved in the delivery
Estimated time of arrival and potential delays
Armed with the knowledge of exactly where your parcel or pallet is, our transport teams monitor the progress of your freight and can identify whether your delivery will be early, on time, or late. Our transport tracking service allows us to adapt to varying conditions and notify you of any changes.
You can rely on us and our track and trace facility to optimise your distribution, meaning that your customers can rely on you for efficient deliveries, and you can offer them full transparency and accountability. With the latest training and equipment, our experts guarantee an excellent service.
Contact us for 'Track and Trace' distribution
Interested in more information on how we can co-ordinate your consignment? Or would you like to check the status of a shipment that's currently in transit? If so, you can get in touch with the John K. Philips team by calling 01744 751 000 or submitting your enquiry through our online contact form.
We're happy to answer any questions you might have about our services, and provide professional advice on the most appropriate solution for your transportation requirements. Whether you need to ship one parcel or several full truckloads, our staff can provide quotes and process orders for you.
Should you need warehouse storage, distribution, or even haulage for chemicals and hazardous materials, our head office team can help. With our high-end transport tracking technology, you'll always be in the loop. Simply contact us to request real-time feedback on your storage or delivery.
---
Enquire Now
Get in touch today!
Request A Call
Enquiry About Our Services
SERVICES
INDUSTRY LEADING SERVICE
---
In every aspect of our service, John K. Philips strives to provide an industry-leading performance, so whether you're sending half a pallet of cargo or a dozen full pallets, we can help. Our expert drivers and handlers are fully trained to provide the fastest, smoothest and most reliable service in the business, and our logistics and planning experts have years of experience in finding the fastest, most direct routes for your freight, saving you time and money!
---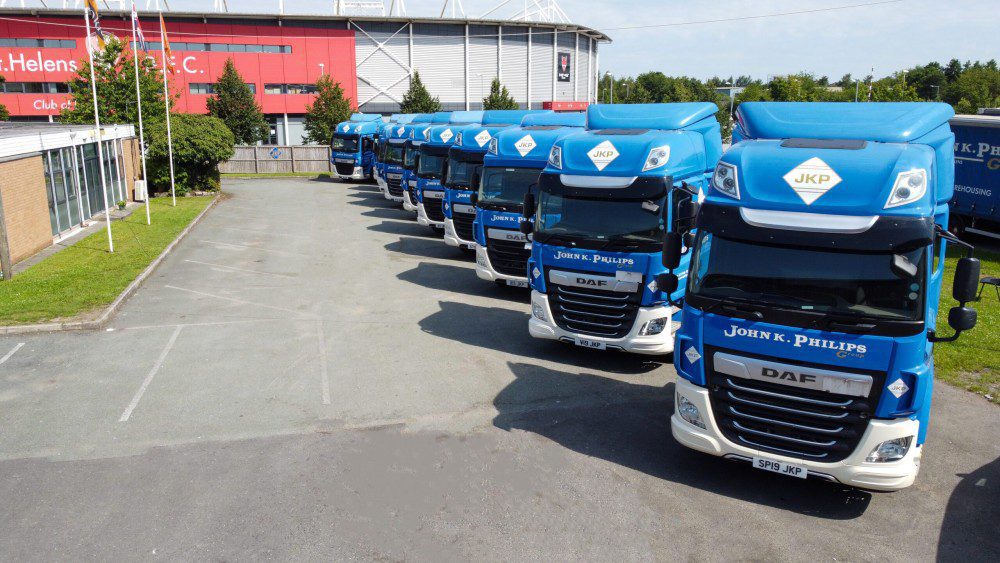 Our Most
Frequently Asked Questions
Which track and trace delivery services do you offer?
As an industry-leading haulier, we offer a range of distribution options here at John K. Philips. Our road haulage services for bulk transportation can support one-off consignments or regular batch shipments for your business, whether you need to transport a large full load or a small part load.
Our pallet courier services are popular for palletised freight, perfect for packing and moving large volumes of goods safely while conserving space. For international imports, we can even store your palletised goods in our bonded warehouse until you're ready to ship them out to your customers.
Even if you need specialist transportation services, we're here for your business as a member of the Hazchem Network. While your consignments are in our care, our track and trace system allows you to check on the exact location of your goods at any time, with updates available down to the minute.
Do you provide in-house logistics as well as track and trace?
Yes, we do! At our warehouse storage facility, where we offer bonded storage to help you defer tax payments until you sell your goods, we can streamline your services by offering integrated logistics solutions. Not only can we handle the HMRC paperwork for you, but we can also manage deliveries.
Our bar-coding system allows us to monitor the volume, type, and location of goods from the minute we process them at our facility to the moment we deliver them to their final destination. This makes it incredibly easy for you to organise your orders and keep things running like clockwork.
Combining our state-of-the-art computer software with our established transport networks, John K. Philips can help you to simplify your operations by entrusting one company with your logistics management. You can check in at any time, and request updates on any consignment in our system.
What are the benefits of track and trace for my business?
There are many ways that your business could benefit from our track and trace facility. The primary advantages are that you save time and money, reducing your business costs while increasing your customer satisfaction due to the efficiency of your deliveries (thanks to our drivers, of course!).
Our track and trace distribution services allow you to streamline your own operations, with our warehouse located near sea ports, airports, and motorway links for wider transportation. With centralised systems for storage, distribution, and processing paperwork, it's extremely convenient.
Not only is it more efficient time-wise, but utilising track and trace is also cost-effective. You'll know exactly where things are, how much storage space you'll need to pay for, and who is delivering each consignment and when. You can rest assured that your goods will get to wherever they need to be.
Find out more
Find Out More About Us?
If you're interested and would like to find out more about us why not give us a call or send your enquiry using the buttons below.
HAZARDOUS MATERIALS &
THE HAZCHEM NETWORK
John K. Philips Group can deliver consignments of all types and sizes. We transport both hazardous and non-hazardous materials, so every driver is ADR and CPC trained and each vehicle is fully insured. You can guarantee that, whatever you ask us to transport, we'll get it there safely and in one piece – first time, on time, every time.