John K Philips
Pallet Delivery UK
---
Welcome to John K. Philips, a renowned haulage company throughout the UK and beyond. One of the many distribution services our customers can benefit from is world-class pallet delivery.
If you're searching for fast pallet freight, then look no further than the smooth operations available at our industry-leading company, based in a key area of Northwest England.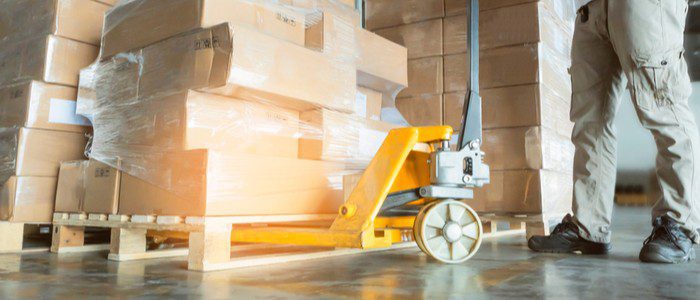 UK pallet courier services
As experts in palletised freight, we help businesses of all sizes to transport large volumes of goods safely, securely, and on time. We not only deliver your palletised goods, but also provide the peace of mind that your cargo will arrive on time and in the condition you expect.
With precise pricing and state-of-the-art logistical systems, our team can plan the most efficient routes to reduce the delivery time and overall cost. This helps you to streamline your business operations, which translates to savings for yourself and your own customers.
We're always seeking ways to improve the speed and quality of our services, ensuring that John K. Philips stays ahead of the competition when it comes to industry-leading pallet transport.
To aid in this, we utilise modern tracking technology to keep tabs on your pallets at all times. You can rest assured that our highly trained experts are looking after your consignment at every stage, tracking the location with instant updates.
Whether it's a quarter pallet, half pallet, full pallet, or even an oversized pallet, we will package and transport it with the utmost care.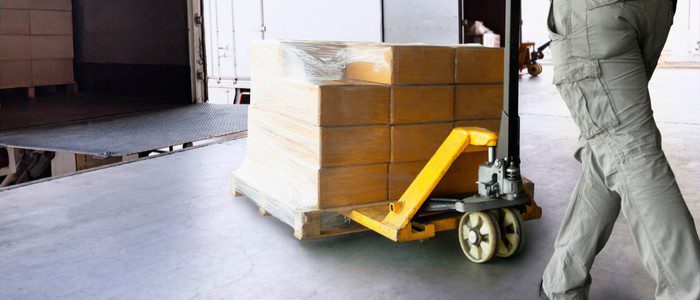 Competitive prices for palletised goods
One of the biggest benefits of pallet distribution with John K. Philips is our straightforward pricing plan. We understand that cost efficiency is at a premium for many businesses, which is why we aim to offer the best value for money on the pallet delivery market.
In comparison to other pallet delivery services – which charge by the pallet – our rates are based on the total amount of space that your palletised goods take up in the truck. This allows you to break down pallets into smaller spaces, so you'll never be charged for more space than you use.
You won't be charged for any empty space left over when your consignment is packaged up for shipping. This makes our pallet delivery services considerably cheaper for our customers, who don't have to pay for a full pallet when only half or a quarter is required.
When you discuss your needs with our team, we may even be able to offer bespoke pallet courier rates, making sure that you always get the best possible price. We're specialists in the field of pallet distribution, employing some of the most professional pallet deliverers in the business. Our competitive rates and level of customer care provide the ultimate job satisfaction.
Our experienced drivers are also qualified to handle the transportation of hazardous materials, thanks to our membership with the Hazchem Network. Should you need to transport chemicals or other hazardous substances via pallet delivery, our specialists can take care of them safely.
Contact us for pallet haulage services
If you're looking for reliable pallet delivery in the UK, you won't find anyone more knowledgeable and capable than the industry experts at John K. Philips.
Our St Helens transport depot offers a range of services, from haulage and storage to tracking and logistics – so, whatever your business needs, the team at John K. Philips can help.
Simply get in touch by submitting your details through the form on the right, or click the contact us button below to fill out our online enquiry form. You can also call us on 01744 751 000 to speak to someone over the phone.
Our office staff will be happy to give you more information and advice on our variety of haulage services as well as our bonded warehouse service.
With years of experience in coordinating pallet deliveries and providing status updates through our innovative order tracking system, we can quickly offer quotes and process orders of all kinds.
Why not reach out to see what we can do for you today?
---
Enquire Now
Get in touch today!
Request A Call
Enquiry About Our Services
SERVICES
INDUSTRY LEADING SERVICE
---
In every aspect of our service, John K. Philips strives to provide an industry-leading performance, so whether you're sending half a pallet of cargo or a dozen full pallets, we can help. Our expert drivers and handlers are fully trained to provide the fastest, smoothest and most reliable service in the business, and our logistics and planning experts have years of experience in finding the fastest, most direct routes for your freight, saving you time and money!
---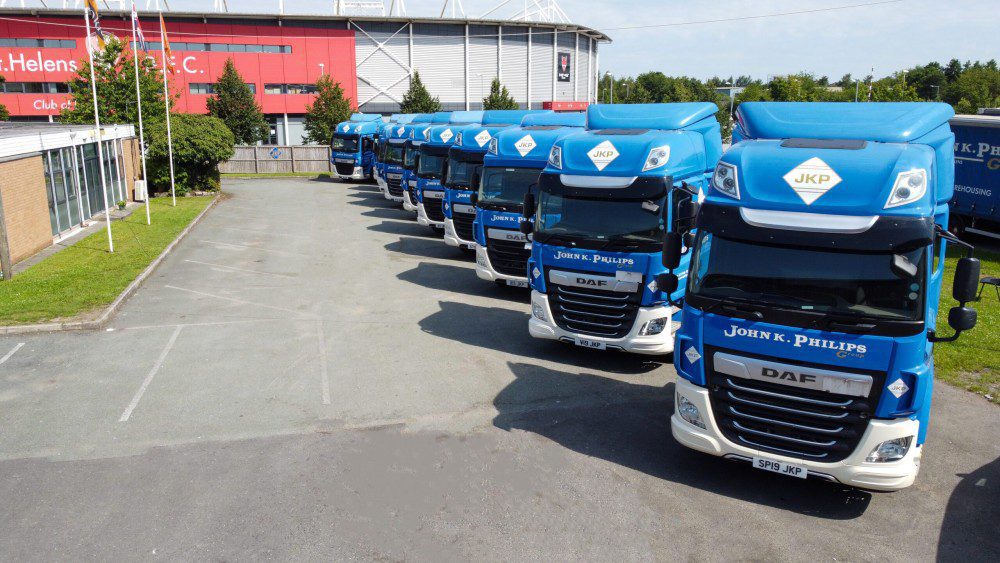 Find out more
Find Out More About Us?
If you're interested and would like to find out more about us why not give us a call or send your enquiry using the buttons below.
HAZARDOUS MATERIALS &
THE HAZCHEM NETWORK
John K. Philips Group can deliver consignments of all types and sizes. We transport both hazardous and non-hazardous materials, so every driver is ADR and CPC trained and each vehicle is fully insured. You can guarantee that, whatever you ask us to transport, we'll get it there safely and in one piece – first time, on time, every time.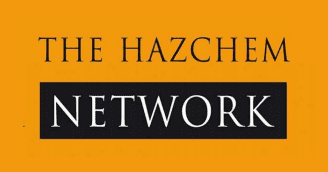 Our Most
Frequently Asked Questions
What is a pallet delivery?
A pallet is a flat sturdy structure, typically constructed from wood, metal, or plastic. Pallets are used to safely transport and distribute a wide range of items – from fresh produce to industrial parts. After securing products to the pallet with straps or shrink wrap, we load the palletised goods onto the transport vehicle using a forklift truck.
Pallet transport is all about improving delivery performance and reducing freight costs, whilst also driving profitability. It's designed to make life easier, avoiding the complex challenges and disjointed transactions that usually come hand-in-hand with the transportation and delivery of goods.
It makes very smart business sense to allow a pallet distribution company to take care of the entire process on your behalf, from pick-up to final delivery. Choosing the right service could help to cut your delivery costs right down, as well as improve your sustainability.
What should I look for in a pallet distribution company?
1) Pallet size
Generally speaking, pallet distribution is a more cost-effective method of delivery than individual shipments. However, you'll only be maximising the financial benefits if you pay for the pallet size that you actually need. Whichever material pallets are made of, they can vary greatly in size, so your chosen pallet courier should offer a size that fits the number of goods you want to transport.
We offer a full range of pallet sizes at the John K. Philips Group, including quarter, half, full, and oversized. Our transportation rates are also tailored to meet the specific needs of individual clients.
If your consignment doesn't fill the minimum payload capacity, we offer part load services, whereby your delivery is consolidated with others to create a full load. This allows us to provide the same level of service for a fraction of the cost, making it a popular choice for small business owners.
2) Technology
Most industries need to keep up with the latest technological advances, and this is especially true for distribution and logistics. The best pallet distribution companies underpin their operations with technology solutions that streamline the pick-up and delivery processes for everyone involved.
Take the cutting-edge 'track and trace' computer system we currently use at John K. Philips, for example. This innovative technology, along with modern signature-capture devices, enables us to follow the progress of your consignment with complete accuracy throughout every stage.
You'll be fully informed regarding the status of every order, from the current location to the delivery vehicle and driver details. You can contact us to check on estimated arrival times whenever you like, but you can always rely on us to deliver your palletised products to specified deadlines.
3) Customer service
As for any business you deal with, you'll want your transportation and logistics provider to offer excellent customer service. Ideally, they'll have a dedicated team of well-trained staff, who are easy to reach and can provide expert guidance from the outset.
At the John K. Philips company headquarters in St Helens, our customer services team works tirelessly to deliver the highest possible standards. Whatever your business needs or distribution requirements may be, we'll do everything we can to create a tailored solution for you.
We offer a full range of distribution services, including different-sized pallets and deliveries throughout the UK and Europe. Our drivers and vehicles are all ADR (Accord Dangereux Routier) compliant, meaning they can transport everything from fresh fruit to dangerous chemicals. With fast distribution times, reduced operating costs, and seamless centralised operations, our customer service is second to none.
What size is a pallet in the UK?
When it comes to buying or renting pallets in the UK, there are many factors that determine the best pallet size for whichever goods you're storing or transporting – including the weight, properties, and destination. The most common or standard UK pallet size is 1200mm by 1000mm (1.2m by 1m).
This differs from the standard Euro pallet size, which is 1200mm by 800mm (1.2m by 0.8m). Whatever the length and width of the pallet may be, the 'quarter' or 'half' designations refer to the height of the load and its maximum weight, rather than the dimensions of the pallet itself.
Similarly, an 'oversized' pallet refers to a load larger than the standard UK pallet (i.e. 1200mm by 1000mm), which extends past the edges by up to a few inches. The maximum oversize allowance can vary, depending on the goods, and how best to store them without causing damage or taking up too much space.
As specialists in pallet delivery and storage for over 40 years, you can contact John K. Philips to find out everything you need to know about pallet sizes and which one is right for you.
How much weight can a standard UK pallet carry?
Perhaps the most important factor to consider when it comes to pallet delivery is the haulage itself, as this determines the type of pallet your consignment will require. For this reason, you'll want to get familiar with the different kinds of standardised UK pallets and their load-bearing capacities:
UK Standard Grade 1 (or Grade A)
• Capable of holding up to 1 tonne in weight.
• Identifiable by its big boards and narrow gaps.
• Sometimes referred to as a perimeter-based pallet.
UK Standard Grade 2 (or Grade B)
• Capable of holding up to 750kg in weight.
• Range of options available, including perimeter-based pallets for racking, or non-perimeter based which don't have any extra baseboards.
UK Standard Grade 3 (or Grade C)
• Used for lightweight haulage, commonly managing between 200-500kg in weight.
• Typically have thin boards with more gaps in between them.
This is a very basic beginner's guide to UK standard pallet sizes, but we always recommend discussing your specific requirements with your supplier before committing to any type of pallet.
What happens during the pallet delivery process?
As soon as you notify us of a specific load, we'll make the appropriate amount of space on one of our freight vehicles and pick up your goods from the relevant facilities. We can work with you and your suppliers to specify a time window that suits you for the collection.
While the palletised goods are in transit, our advanced tracking system will provide frequent updates on their current location and estimated delivery time. You can contact us at any point for an exact update, or request a map of the delivery route if you prefer.
Towards the end of the journey, we'll provide a more accurate arrival time, giving you enough notice to prepare for the imminent delivery. We'll update you again as soon as your consignment has been dropped off, letting you know who was involved in the kerbside hand-off.
Should you need further assistance following the delivery of your pallets, feel free to contact us again, and our team will be happy to help you with any more enquiries you have.
Are there access restrictions for pallet deliveries?
Pallets are delivered to ground level kerbside locations by truck. The delivery address must be accessible by a road big enough to accommodate the weight and size of the heavy goods vehicle, with a hard, solid, and even ground surface.
This means no steep inclines or hills, no gravel or cobblestones, and no grass or mud. It won't be possible to reach the access point or to safely load and unload heavy pallets on sloped or uneven ground. This is why you need to let us know about any potential issues at the very start.
For example, we'll need to know about obstructions such as pedestrian crossings or lack of parking space before calculating whether we can fulfil your delivery. For accepted pallet distribution orders, we'll require the full address and recipient details, plus at least two contact numbers.
At least one responsible adult (aged 18 or over) must be available to sign for the pick-up and delivery at each location, though it's likely to require multiple people to transfer your pallet loads.
What can and can't be shipped as pallet freight?
Large or heavy items, or collections of smaller items being transported together, are ideal for pallet deliveries. The majority of goods can be delivered as palletised loads, as long as they aren't fragile or hazardous. It's possible to transport hazardous goods with John K. Philips, but the appropriate safety measures must be taken, making standard pallet delivery unsuitable.
Otherwise, as long as your palletised goods don't exceed the dimension limitations, and aren't extremely breakable, they should be shipped just fine. Generally, packaging a pallet well using careful stacking and stretch wrap should keep the goods perfectly intact throughout their journey.
However, there are definitely some items that are either impractical or actively prohibited for pallet distribution, depending on the laws of the countries you are transporting the goods between. Things like mechanical parts containing oil, explosives, corrosive and toxic substances, and organic matter are heavily regulated to prevent harm to human health or the environment.
If you're uncertain whether your shipments are suitable for pallet loads, you can always send a message to the John K. Philips team for advice on acceptable palletised goods and pallet delivery.