John K Philips
Haulage
---
Are you in need of a fast and cost-effective haulage service for your company in the North West? If so, then look no further than the expert team at John K. Phillips. We are proud to have a reputation as one of the leading haulage companies in the North West and, as such, we offer a range of bulk transportation and road haulage services. Are you looking to transfer a small one-off consignment or a regular batch of heavy goods? Either way, our team are on hand to meet your requirements with as little delay as possible.
Ultimately at John K. Phillips, we ensure that our customers are satisfied with the haulage service they receive, every time. This is how we separate ourselves from the competition, as we always look to maintain the highest standards. We plan out every aspect of the journey from start to finish, to ensure no unnecessary hold-ups, as we always look to get from A to B as quickly and efficiently as possible.
We tackle challenges in a professional manner, making sure that we always perform the task that we are set out to the letter, whilst we do everything in our power to make sure that your consignment arrives on-time and in perfect condition.
If you are looking for a reputable haulage company in Liverpool then John K. Phillips is definitely the best place to look, with our experienced fleet of drivers on hand to perform any job that is asked of them to the best of their ability.
HAULAGE TRANSPORT THAT IS TAILORED TO YOUR NEEDS
Here at John K. Phillips, we don't believe in a "one size fits all" approach to road haulage. Your consignment is unique, and what works for one person might not necessarily work for you. This is why we look at each job closely and tailor our road haulage services to meet your specific needs and requirements.
Our fleet includes a diverse range of state-of-the-art haulage vehicles, including everything from small vans with a 1.2 tonne capacity to large 26-tonne rigid trucks and 44-tonne tractor units. We truly do have everything available! We are able to transport both hazardous and non-hazardous goods of any shape, size, and volume. We also offer a wide spectrum of national and international delivery options, including:
Same and next day UK deliveries
Standard 2-3 day UK deliveries
Benelux and European deliveries within 24-72 hours
Worldwide deliveries
Whatever your bulk transportation needs, we can tailor-make the ideal haulage service for you.
CONTACT JOHN K. PHILIPS FOR EFFECTIVE ROAD HAULAGE
If you would like to find out more about the haulage services available at John K. Phillips, please fee free to get in touch with a member of the team. From our base in St Helens, we currently offer services across Warrington, Wigan, Runcorn, Liverpool, Manchester and further afield.
So why not give us a call today on 01744 751000 or fill out our online contact form and we will respond to your enquiry as soon as possible.
---
Enquire Now
Get in touch today!
Request A Call
Enquiry About Our Services
SERVICES
INDUSTRY LEADING SERVICE
---
In every aspect of our service, John K. Philips strives to provide an industry-leading performance, so whether you're sending half a pallet of cargo or a dozen full pallets, we can help. Our expert drivers and handlers are fully trained to provide the fastest, smoothest and most reliable service in the business, and our logistics and planning experts have years of experience in finding the fastest, most direct routes for your freight, saving you time and money!
---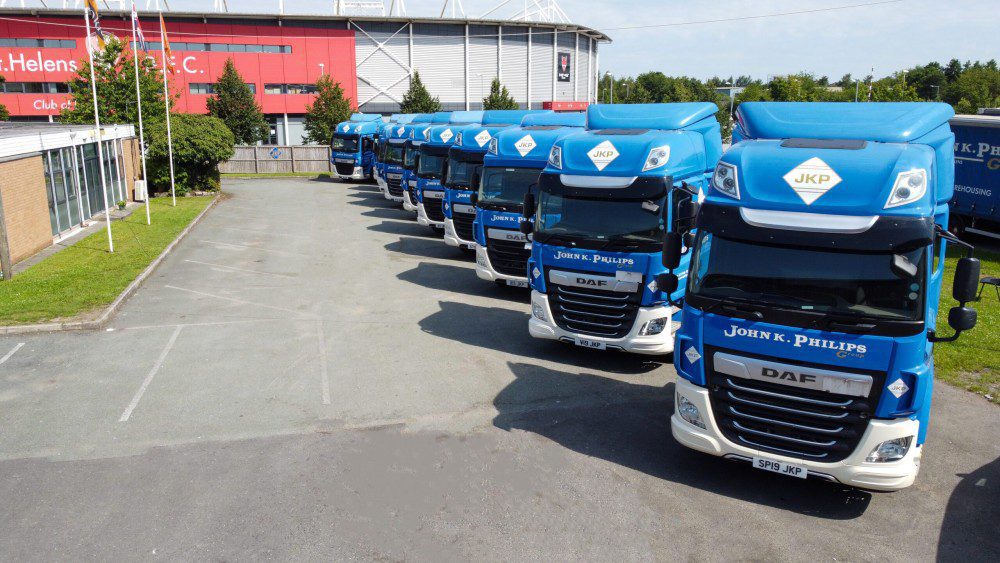 Find out more
Find Out More About Us?
If you're interested and would like to find out more about us why not give us a call or send your enquiry using the buttons below.
HAZARDOUS MATERIALS &
THE HAZCHEM NETWORK
John K. Philips Group can deliver consignments of all types and sizes. We transport both hazardous and non-hazardous materials, so every driver is ADR and CPC trained and each vehicle is fully insured. You can guarantee that, whatever you ask us to transport, we'll get it there safely and in one piece – first time, on time, every time.