Integrated Logistic Solutions
John K Philips
Integrated Logistic Solutions
---
In any business venture, logistics is crucial to success. Defined as "the art and science of moving supplies", logistical expertise is the backbone of our transport and distribution networks at John K. Philips.
Above a certain size, the logistics of a business becomes something that the business owner can't possibly be expected to handle on their own – a complex, ever-changing pattern of shipments, orders, warehousing, deliveries and transport networks that is best left to an experienced, expert team of dedicated professionals.
As one of the UK's leading logistics companies, John K. Philips can use our industry knowledge, planning expertise and cutting-edge organisational software, in conjunction with our extensive transport network and expert drivers, to provide an unbeatable logistics service to our customers, no matter what their requirements. Sounds promising, right?
EXPERT LOGISTICS SERVICES
Success in business logistics depends on an eye for detail and unfailing consistency, two things that John K. Philips can bring to the table in abundance. With a dedicated planning and coordination department populated by industry experts, and an extensive transport network spanning the UK and Europe, John K. Philips can help you achieve your business goals, delivering supplies where you need them, when you need them!
HAZCHEM LOGISTICS
As members of the Hazchem Network, John K. Philips are recognised as specialists in the movement of hazardous and difficult-to-transport materials, including chemicals, solvents, inks and paints, fuels and volatile materials. If your logistics requirements involve hazardous materials, while other logistics companies may baulk, John K. Philips will step up to the plate, making sure that the materials you need get where you need them to be.
Distribution procedures can be quite complex and often have an impact on time and cost. However, thanks to our logistics company's sophisticated computer system, our team of planners can optimise delivery schedules and routes to make the process as seamless as possible. In the end, it is the customer that benefits with faster distribution times and reduced operating costs.
CONTACT JOHN K. PHILIPS FOR LOGISTICS SERVICES TODAY!
For more information on the logistics services available from John K. Philips, or to discuss how our expertise as a logistics company can help your business, you can get in touch with us on our telephone number, 01744 751000, or use the contact form on this site to send us a direct message.
With an extensive transport network and years of experience at the forefront of the UK logistics industry, expertise in moving hazardous materials and dedicated planning expertise that can't be beaten, we will be able to make sure your company logistics run like clockwork. Get in touch today to see what we can do for you – we look forward to hearing from you!
---
Enquire Now
Get in touch today!
Request A Call
Enquiry About Our Services
SERVICES
INDUSTRY LEADING SERVICE
---
In every aspect of our service, John K. Philips strives to provide an industry-leading performance, so whether you're sending half a pallet of cargo or a dozen full pallets, we can help. Our expert drivers and handlers are fully trained to provide the fastest, smoothest and most reliable service in the business, and our logistics and planning experts have years of experience in finding the fastest, most direct routes for your freight, saving you time and money!
---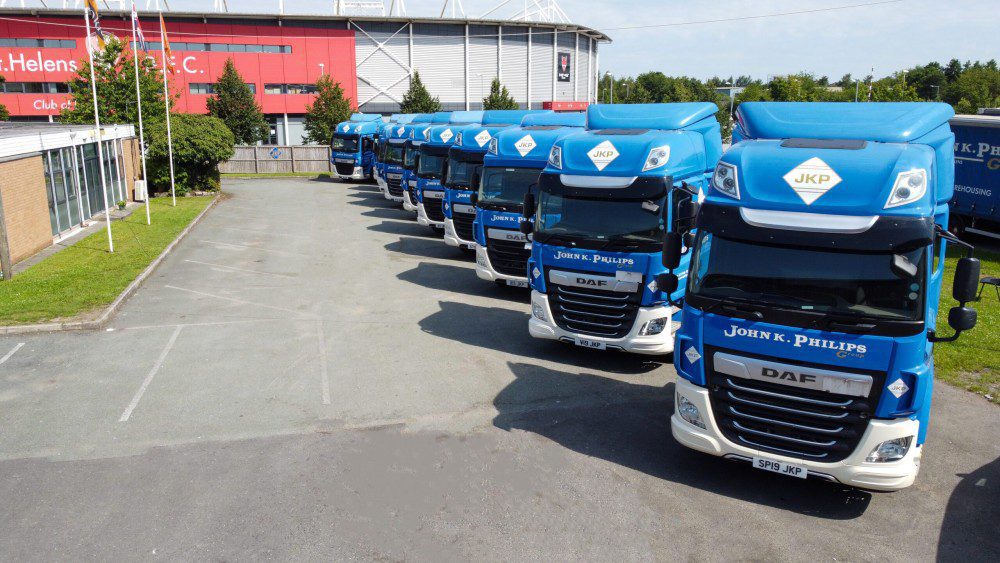 Find out more
Find Out More About Us?
If you're interested and would like to find out more about us why not give us a call or send your enquiry using the buttons below.
HAZARDOUS MATERIALS &
THE HAZCHEM NETWORK
John K. Philips Group can deliver consignments of all types and sizes. We transport both hazardous and non-hazardous materials, so every driver is ADR and CPC trained and each vehicle is fully insured. You can guarantee that, whatever you ask us to transport, we'll get it there safely and in one piece – first time, on time, every time.