Pallet Delivery Liverpool
John K Philips
Pallet Delivery in Liverpool
---
If looking for top class pallet delivery in Liverpool, look no further than distribution from John K. Philips. John K. Philips Group is one of the most established leading logistics companies in the North West of England; operating since the 1970's and having established themselves as one of the most reliable, professional delivery service companies around. We offer an incomparable pallet service in Liverpool that ensures your delivery is transported within top standard timing.
In terms of pallet delivery, Liverpool is an imperative location due to the city's transport links. Liverpool's easy access to the M62 and M6 motorways place it ideally within the motorway system of the UK. This allows John K. Philips pallet service in Liverpool to get your pallet delivery to you in next to no time. Our advanced use of technology allows us to process all delivery items in and out of our warehousing facilities in a quick yet professional manner, meaning we can get your pallet delivery into transportation in next to no time. For tracing and tracking of your pallet delivery, wherever it is in its transportation process, we have the technology of a computerised bar-coding system that allows both our company and yourself, the customer, to keep an eye on your pallet delivery, being able to notice where it is and maybe have a rough idea of how long it will be before it meets it's destination. This means you have the freshest, up to date information regarding your delivery at all times.
Contact John K. Philips for Pallet Delivery in Liverpool
We very much like to focus our work on customer satisfaction here at John K. Philips Group. Rest assured that if your pallet delivery is organised through our company, you will be given a safe, speedy and reliable service. The overall process is guaranteed to be straightforward and as easy as possible for all customers who come into contact with us.
If you would like more information on the best pallet delivery Liverpool and the rest of the North West has to offer, or wish to arrange pallet delivery in Liverpool, do not hesitate to contact us today! Get in touch with John K. Philips Group by calling 01744 751000 or filling out our online contact form and one of our trusted members of staff will be more than happy to help you!
---
Enquire Now
Get in touch today!
Request A Call
Enquiry About Our Services
SERVICES
INDUSTRY LEADING SERVICE
---
In every aspect of our service, John K. Philips strives to provide an industry-leading performance, so whether you're sending half a pallet of cargo or a dozen full pallets, we can help. Our expert drivers and handlers are fully trained to provide the fastest, smoothest and most reliable service in the business, and our logistics and planning experts have years of experience in finding the fastest, most direct routes for your freight, saving you time and money!
---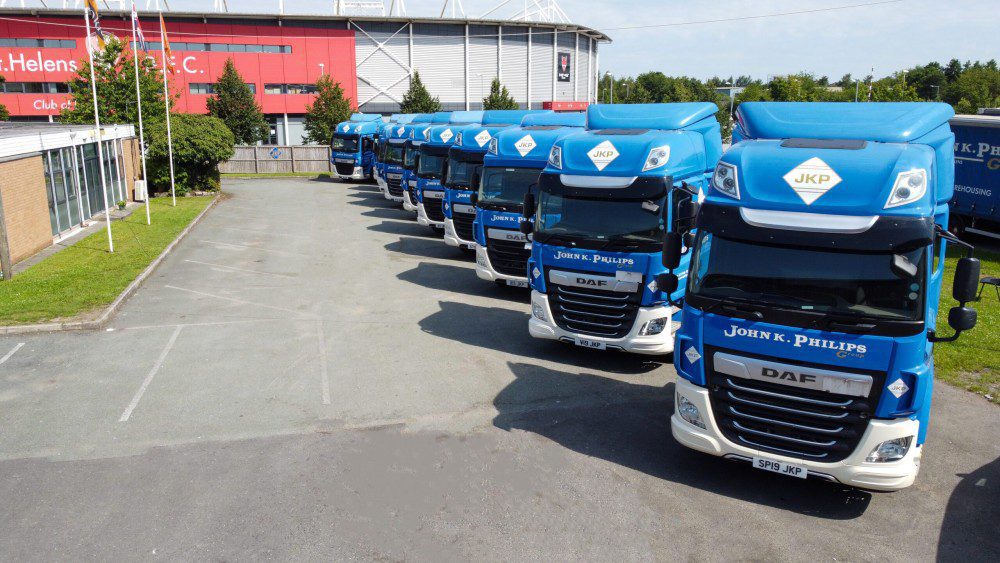 Find out more
Find Out More About Us?
If you're interested and would like to find out more about us why not give us a call or send your enquiry using the buttons below.
HAZARDOUS MATERIALS &
THE HAZCHEM NETWORK
John K. Philips Group can deliver consignments of all types and sizes. We transport both hazardous and non-hazardous materials, so every driver is ADR and CPC trained and each vehicle is fully insured. You can guarantee that, whatever you ask us to transport, we'll get it there safely and in one piece – first time, on time, every time.