John K Philips
Pallet Delivery in Runcorn
---
With John K. Philips, you are guaranteed the best service of pallet delivery in Runcorn. With over 40 years in the business of delivery service, our company has grown to become one of the most established logistics companies in the whole of the North West of England, accumulating not only years of experience but also a stellar reputation in terms of their delivery service, and soon pallet delivery in Runcorn.
Pin pointing pallet delivery in Runcorn, the industrial town is found at a perfect point to be delivered to from John K. Philips Group. The town of Runcorn is located only approximately 20 minutes away from the offices of John K. Philips, which is based in St Helens. With an easy route down the A557, our company can make it so that any pallet delivery Runcorn will be delivered in record timing! The advances in technology that we are approaching as a company are also allowing us to embrace new and fresh ways to make the transportation of all items, not only pallet-based items, much easier in the future. As a company that has kept growing since the 1970's, we are always finding our way of working to be adapting to new and exciting ways to make our services better and simpler for everyone! Our use of a computerised bar-coding system has proven to be very helpful so far. This system allows us to track items along their process of production and transferring from destination to destination. The use of this technology allows us to keep a close track of all our items, especially whilst in transit so we can determine the approximate delivery time of items whilst they at travelling.
Contact John K. Philips for Pallet Delivery in Runcorn
At John K. Philips, we like to think that we are always putting the customer first. Whether that is in reference to us doing our best to meet any customer requirements or ensuring that our delivery service is always second to none in terms of delivery time and customer satisfaction, we always want to make sure our customer knows that we care and put their needs first. Our workforce of dedicated employees works tirelessly to always give the North West the best service possible.
Feel that the service of pallet delivery needs John K. Philips Group? Get in touch with us today! To talk about the guaranteed number one service of pallet delivery Runcorn can find, call us today on 01744 751000 or fill in our online contact form found on our Contact Us page. Use either of these methods and one of our dedicated team members will be more than happy to help you with any query you may have.
---
Enquire Now
Get in touch today!
Request A Call
Enquiry About Our Services
SERVICES
INDUSTRY LEADING SERVICE
---
In every aspect of our service, John K. Philips strives to provide an industry-leading performance, so whether you're sending half a pallet of cargo or a dozen full pallets, we can help. Our expert drivers and handlers are fully trained to provide the fastest, smoothest and most reliable service in the business, and our logistics and planning experts have years of experience in finding the fastest, most direct routes for your freight, saving you time and money!
---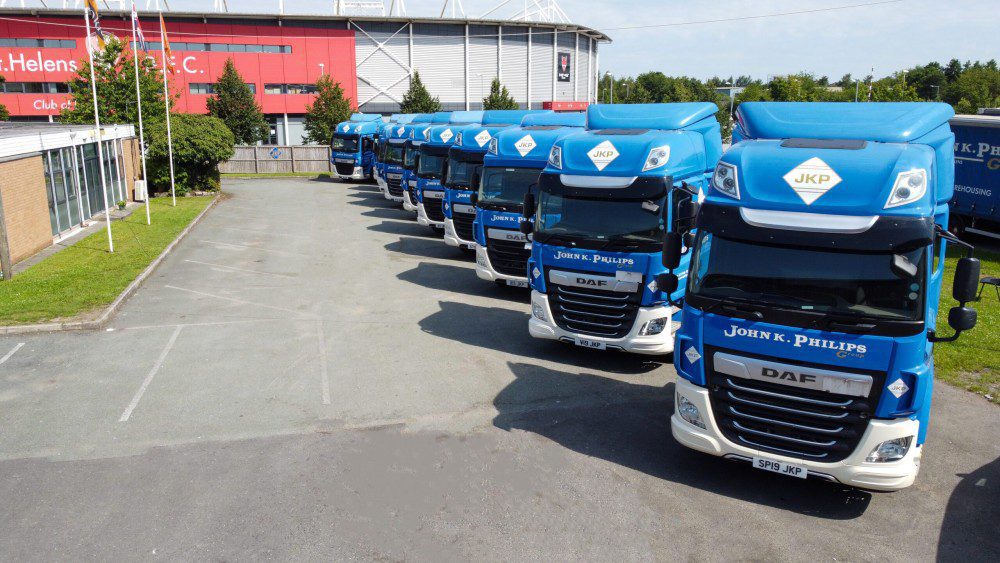 Find out more
Find Out More About Us?
If you're interested and would like to find out more about us why not give us a call or send your enquiry using the buttons below.
HAZARDOUS MATERIALS &
THE HAZCHEM NETWORK
John K. Philips Group can deliver consignments of all types and sizes. We transport both hazardous and non-hazardous materials, so every driver is ADR and CPC trained and each vehicle is fully insured. You can guarantee that, whatever you ask us to transport, we'll get it there safely and in one piece – first time, on time, every time.