John K Philips
Pallet Delivery in Wigan
---
When looking for a reliable, trustworthy service for pallet delivery in Wigan, look no further than John K. Philips. A delivery service with operating experience originating from the 1970's, John K. Philips Group  has worked endlessly for decades to become the best delivery company in the North West of England. You will always find that with John K. Philips, your service is constantly first class and can't ever be beaten.
Specific to pallet delivery in Wigan, the town itself is situation in a perfect spot that makes it ideal to connect our services across the UK. As Wigan lies at the meeting point both the A49 and A577, this gives a great connection to the M6, a short drive from our main offices in the St. Helens area. This gives John K. Philips Group an edge in being able to deliver your pallets through an easy networking system. The technology at John K. Philips also helps in making the process of your pallet delivery easier and much more streamlined, giving us availability to transport your pallets in a quick and professional manner with no issues along the way. Our advances in the use of a computerised bar-coding system allows both ourselves at John K. Philips and you, the customer, to keep track of the of your pallet delivery. We are given the opportunity to see the whereabouts of your pallet in its transportation process, letting us know exactly where it is and an idea of when your pallet delivery will be delivered. With this, your pallet is always tracked and kept under a sort of on-demand surveillance.
Contact John K. Philips for Pallet Delivery in Wigan
We at John K. Philips Group pride ourselves on how much we aim to improve customer satisfaction with every single delivery we make. Your pallet delivery being organised through our company is instantly ensuring that you will be given brilliant service, with a delivery service that exceeds expectations.
Feel that the service provided by John K Phillips is the pallet delivery you need? Do not hesitate to contact us today for any queries or to arrange pallet delivery in Wigan! You can contact us by calling us on 01744 751000, or by filling in our online contact form. Do either and one of our helpful members of staff will be more than happy to help you out!
---
Enquire Now
Get in touch today!
Request A Call
Enquiry About Our Services
SERVICES
INDUSTRY LEADING SERVICE
---
In every aspect of our service, John K. Philips strives to provide an industry-leading performance, so whether you're sending half a pallet of cargo or a dozen full pallets, we can help. Our expert drivers and handlers are fully trained to provide the fastest, smoothest and most reliable service in the business, and our logistics and planning experts have years of experience in finding the fastest, most direct routes for your freight, saving you time and money!
---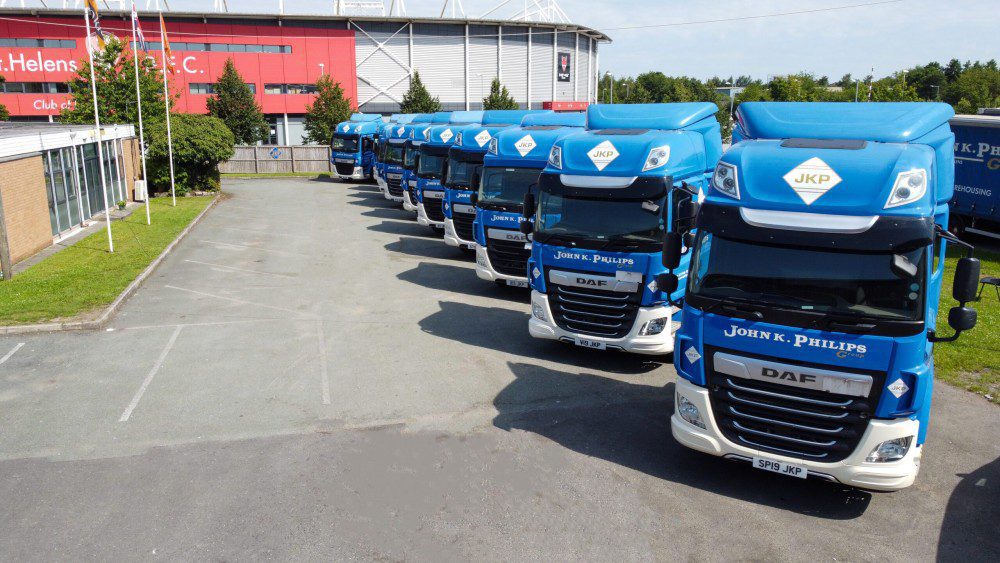 Find out more
Find Out More About Us?
If you're interested and would like to find out more about us why not give us a call or send your enquiry using the buttons below.
HAZARDOUS MATERIALS &
THE HAZCHEM NETWORK
John K. Philips Group can deliver consignments of all types and sizes. We transport both hazardous and non-hazardous materials, so every driver is ADR and CPC trained and each vehicle is fully insured. You can guarantee that, whatever you ask us to transport, we'll get it there safely and in one piece – first time, on time, every time.